A Well-Crafted Kit Giveaway
Enter for a chance to win a copy of Janet Crowther's new book A Well-Crafted Home + a set of Fiskars crafting tools to help you with your next design project.
Whether you're an aspiring maker or a seasoned crafter, you're sure to be inspired by the creative projects in A Well-Crafted Home. This beautiful, practical book includes 60 projects for high-quality furniture, textiles, and accessories to enjoy all through the house–plus all the techniques you need for dyeing or sewing fabric, cutting leather, antiquing mirrors, working with wood, and much more.
Author Janet Crowther is an entrepreneur and designer whose work has been featured on the pages of Martha Stewart Living, Vogue, Elle, InStyle, and more. In A Well-Crafted Home, Crowther shows that even the smallest touch of handmade items can make a house a home.
We're offering 5 lucky winners the chance to win a Well-Crafted Kit from Janet Crowther, which includes some of Crowther's favorite crafting tools from Fiskars.
Each winner will receive:
• A copy of A Well-Crafted Home
• Fiskars' trusted Orange-handled Scissors™
• Fiskars ultrasharp thread snips
• Fiskars titanium rotary cutter
A WELL-CRAFTED HOME: INSPIRATION AND 60 PROJECTS FOR PERSONALIZING YOUR SPACE
A Well-Crafted Home includes simple, creative details that will tailor a space to your taste. More than just "DIY" crafts, these carefully designed projects call for good materials–like linen, leather, and wood–so the finished product will last you a lifetime.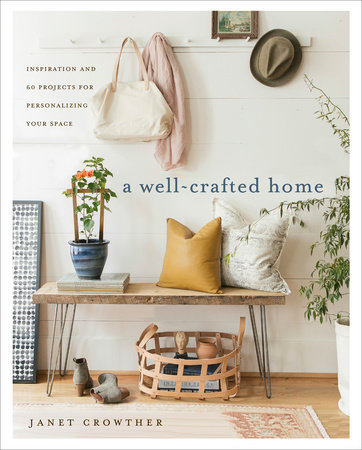 FISKARS' TRUSTED ORANGE-HANDLED SCISSORS™
Known worldwide for quality and precision, Fiskars' trusted Orange-handled Scissors™ redefined the standard for cutting performance.
FISKARS TITANIUM ROTARY CUTTER
This rotary cutter is complete with a 60 mm blade offering precise cuts through thick quilting materials and multiple layers of fabric, making every job even easier.
FISKARS ULTRASHARP THREAD SNIPS
Quickly and precisely snip fabric and thread with this compact design featuring razor-sharp blades and a built-in blade guard.
Live Your Best Life. Sign up for Books for Better Living