Eating and Walking My Way Through San Francisco
With stops at Tartine, Burma Superstar and more.
Though I spent the majority of my adult life in New York City, I had one charmed summer in San Francisco. It was just enough time to whet my appetite for more, but not enough to really discover what the city was all about. Cities, like people, take time to develop relationships with—and I'd only become friendly acquaintances with this one.
20-some years later, with a 9-year-old in tow, I embarked on a long-weekend getaway from my home in Seattle. As a newly-minted west coaster, San Francisco was now more accessible than it had ever been, and I was prepared to take in as much as possible, particularly the food. As a person who writes regularly about food, I've always felt sheepish that I haven't explored what's universally known as one of the best culinary cities in the world; it's the place that truly pioneered the farm-to-table movement. I'd cooked from Alice Water's cookbooks and drooled over Rick Bayless's Mexican recipes, tasted Chris Costentino's creations when he came to Seattle as a guest chef at a favorite restaurant and remembered the impact of Zuni Café when it first opened decades ago. But besides some cheap burritos in my 20s (though decidedly memorable), I had never eaten my way through the city. In just four days, it's impossible to do, but I had a couple of places that I was determined to check off, starting with Elisabeth Prueitt's impossibly wondrous Tartine in the Mission District.
Even though the bakery/café has been open for a decade, Tartine still garners the kind of lines out the door that one typically associates with the latest trendy spot. I figured Saturday morning would be a wash, but Friday might be tackle-able. We made sure to get there before 10 a.m., but the line had already begun. It was snaking out the door but hadn't yet begun curling around itself. It would be a solid 20-minute wait, but my daughter, surprisingly, was prepared to go the distance. (She loves her croissants!). Once we made it in, I gravitated to the front case as if I'd been cast with a spell to do so. There was something golden brown and fluffy staring back at me, brush-stroked looking piques of caramelized meringue topping it off. Beside that was the dessert I knew I couldn't leave without trying: A Passion fruit lime Bavarian cake, and further down lemon tartlets topped with puffs of cream that looked as if they were moving clouds caught mid-flight, a purple flower petal on each, also seemingly about to float off the top.
With crowded tables, and people vying for space, we finally snagged a spot with a Columbian couple. They owned a bakery and were visiting for education/inspiration: particularly around the bread. Tartine's bread is legendary, and these expert bakers explained how they'd tried unsuccessfully for years to mimic it. This time around, they'd purchased Prueitt's new cookbook, Tartine All Day, and hoped to finally crack the code. I didn't pretend to entertain the idea that I'd ever bake their beautiful breads, but the cookbook, which also includes savory food, constantly tempts me.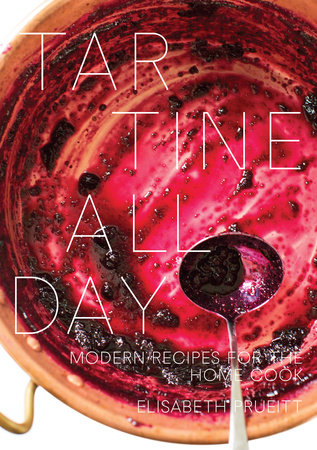 Tartine All Day
by Elisabeth Prueitt
---
After gorging ourselves, we did what anyone visiting a great city like San Francisco should do: we walked—and I marveled at the signature Victorian architecture, as we hoofed it up the steep hills, occasionally catching a cable car to my daughter's sheer delight. The city was just as I remembered it, glistening white, and somehow more civilized than New York despite having plenty of character. Even the way the women dress differs so much, with an emphasis on beautiful, movable fabrics that still look breathtakingly stylish.
As we traversed the city, we stopped for homemade, citrus-flavored Turkish Delight and cured meats in the Ferry Building, ate home-cooked Italian food that you order at the counter in North Beach, and had a late lunch of soup dumplings in Chinatown.
Eventually, we met friends from Oakland at another restaurant I'd deemed unmissable: B Star, the sister restaurant to the phenomenally popular 25-year-old Burma Superstar. It was tucked unassumingly into the low-rise neighborhood of Richmond, which felt, to me, like Brooklyn, with smaller Victorians, and a laid-back vibe that made it the kind of place you could imagine actually living in. I was shocked that we walked right in without a reservation on a Saturday night at 6.
The restaurants, though focused on Burmese food, actually incorporate a range of Southeast Asian dishes, and the five of us ordered family-style, starting of course, with their signature tea salad. As the new cookbook, Burma Superstar, explains: "The most famous of these dishes is laphet thoke, tea leaf salad. Laphet, the star ingredient, is made by fermenting just-picked tea leaves for months. It creates a dark green "dressing" that lightly coats the rest of the ingredients. While laphet is the highlight, this salad also showcases another key component of all good Burmese salads: texture. It's full of fried lentils, seeds, garlic, dried shrimp, chickpea flour, and tomato." Need I say more? We ordered a second, along with a Platha dipper: layered Burmese flatbread (think Indian naan but more delicate) with a curry dip, garlic noodles, coconut chicken noodles, and fiery but sweet tamarind chili shrimp (seconds on that one as well).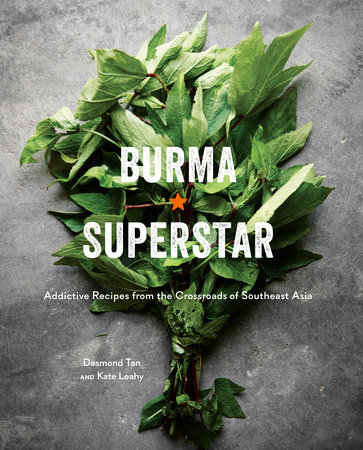 Burma Superstar
by Desmond Tan and Kate Leahy
---
The rest of our trip included more walking, bookstores, sea lions and Alcatraz (for the kid), and a gloriously sunny afternoon paddle-boating and visiting the Japanese Tea Garden in Golden Gate Park. My only regret was not planning far enough in advance to get into Gonzalo Guzmán's Nopalito with one outpost just outside the park, in addition to the original location. Instead, I have to make do with the Veracruz-born chef's beautiful new cookbook, filled with recipes that evoke the spirit and roots of regional Mexican cooking. From making your own masa and smoking your own jalapenos to creating beguiling dishes like Crispy Red Quesadillas with Braised Pork and Pork Rinds, it covers a country's cuisine with astonishing depth. It's my clarion call to come back to the city that has evolved from acquaintance to friend.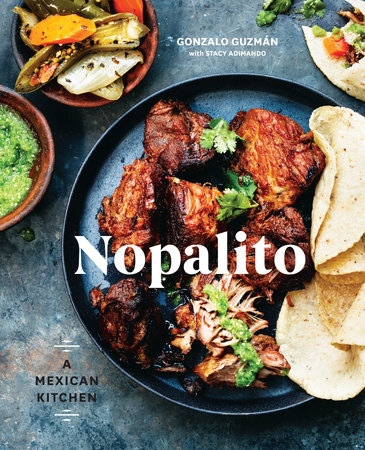 Nopalito
by Gonzalo Guzmán
Photo Credit: uschools/iStock
Live Your Best Life. Sign up for Books for Better Living